When you come to Sand Haven Campground, life slows down a little. If we can help you smile, have fun, and enjoy your time, then we have done our job. For us, that is what it is all about.
Meet the Casselmans: Steve, Danielle (Dani), Stephen, and Cole
We are originally from Nebraska. In 2000, we gave up our corporate jobs and purchased a resort in Northern Minnesota. We decided that our sons were growing up too fast, and we were not around as much as we wanted to be. So, we bit the bullet and bought Lakewood Lodge -- a small, older cabin resort on Sand Lake. Over the next 20 years, we transformed it into a large 14 cabin resort and made it one of the top family resorts in Itasca County.
After raising both of our boys there, we decided it was time to start the next chapter of our lives. We love what we have accomplished and want to keep on providing top-notch vacations. So Green Acres Family Campground called us home. We are looking forward to getting to know you. We want to ensure you that we will love and continue to operate the campground as Kevin and Angie did. We hope that you will grow to love us as you did them. You can never step directly into the shoes of someone great, but we will try our best. Please be assured if there is ever anything different or wrong that you were accustomed to, please let us know. We are very open to suggestions and comments. With your help, Sand Haven will continue to be among the top campgrounds in Wisconsin.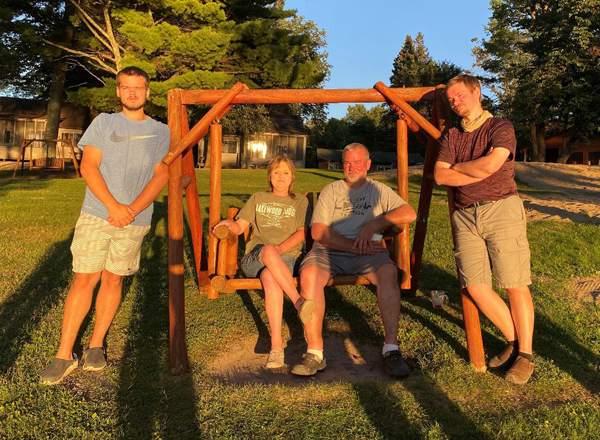 Our Mission
To be a destination family campground where amazing memories are created and treasured for a lifetime! It is our philosophy to soar with entrepreneurial spirit and offer family vacationing at a budget-friendly price while building strong relationships through excellent customer service and respect for all people.
Our Promise to You
Your stay with us will be a memorable one. We invite you to experience what we choose for ourselves to enjoy. You might say, "We believe in our product!" We desire to share with you the finest that Wisconsin has to offer -- in a clean, well-groomed setting among friendly people.